May 6, 2012
No way. It's way too early to pre-register for the Dana Point Grand Prix, even if it is becoming the best criterium in America.
And that's what I thought recently about the, uh, other great race out there in Ontario. I thought for sure I could register on game day. After all, I'm over 50 and the 50 plus field never sells out. Right?
Wrong. It's a new era. We're getting older and faster, added to which this year we didn't have a winter. Fold in the unemployment and bang! Everybody's been training, everybody's fit, and everybody's motivated. Very motivated.
Look. You can wait. We're a non-profit. We'll collect a late fee, which is great, since all of our net proceeds are donated to charity. All of it. Not some of it. The 5th Marine Regiment Support Group will salute you. So will the Pacific Meso Center and the Boys and Girls Club of Capistrano Valley. All worthy charities. Each deserving of your support.
But do you want to take that risk? Each year, the Dana Point Grand Prix gets huger. In fact, last year we were the largest single-day criterium in the United States. This year it will be beyond huge, it will be humongonoid in the biggest sense of that ginormous word. All the players are back: Amgen Breakaway from Cancer, our incredibly generous presenting sponsor, the City of Dana Point, including all of its grateful and cheerful domiciles, and the kids races, Karl Strauss, Sierra Nevada, Dave Towle, and The Breakaway from Cancer Walk, and maybe even a few bona fide champions of the world…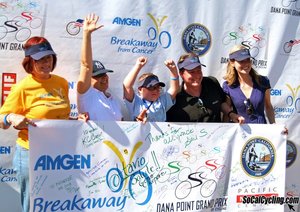 Now don't get all frothy. Just sign on the line. One less thing to do in your busy schedule. Click here to pre-register. Do it now, or suffer the abject humiliation of being turned away from an old guy's race. The youngsters are smart. They know to sign up early, since their fields tend to fill up fast, even in years when the weather's crappy and the economy's buzzing.
One more thing. By the way, it's never one more thing with me anyway. I got more. I'm getting all juiced up just thinking about it. I want in. I got cash. Sign me up! I can get hot! At least two, maybe three races. This is why I fight…
OK. Back to that thing. One of my old-fart peers noticed the 50 plus race didn't have separate scoring for the 55 plus, which is important in the pursuit of the prestigious 55 plus So Cal Cup series. You alerted us to this oversight. We corrected it. Lickety split. Because we are here to serve you. And, because SoCal is the hot bed for not only the biggest but fastest fields in the United States – no hype intended (look at the sheets) – we also expanded the field limits to a buck fiddy. That's right. 150. The course is safe and the fields will fill up. Not to mention the insanely rich cash prize list for the 50/55 field at $1,500!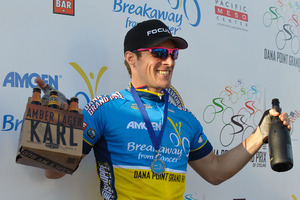 Check out our race flyer here. Big Cash. Big Prizes. Winners Jersies. Call ups. Bottoms Ups.